If you watched
Real Housewives of NYC
tonight, then you understand the title of this post. Let's get started with personal messages to all of the "housewives."
1.
Alex
. Not much of you tonight, and I have to say I was a little disappointed. I'd like to remind you that people who brag about how wonderful their marriages are, how in love they are, how perfect their families are . . . they are the ones who end up getting divorced and/or humiliated in very public ways. Remember Kathy Lee Gifford? No? Then how about Nick and Jessica? Spencer and Heidi?
I think the consensus is that your husband is a closeted homosexual. Watch your back, honey. Also, your boob was showing when Simon and you were having your smug-fest.
2.
Bethenny
. Meh. Boring. The best part was your cute little dress with the Greek key trim, first noted by
Brilliant Asylum
, and apparently designed by Ginny Hilfiger. Witness:
However, I was not crazy about the cropped red leather jacket that you wore with it. No biggie. I'll give you a free pass on that one because of your really awful childhood.
3.
Ramoner
. And no, that is not a typo. That is how Jill pronounces Ramona's name and it drives me fucking INSANE! I swear, the accents on this show increase the these-people-suck quotient by 75%.
But back to you, Ramoner. I am totally on your side in your battle with Jill. You didn't have to invite her to your small cooking party, and your excuse to the cameras was totally legit. It's that damn Countess who backstabbed you! You didn't lie when asked "where's Jill," you said "I don't know, I think she's in the city." The "I don't know" protects you in my book. You were caught in an awkward situation, okay? I understand.
Ramoner, I am actually starting to like you and your husband Mary-o, but you must work on the wardrobe. Avery was right--I don't care if that top was Missoni, it looked like lingerie. You were showing way. too. much. It makes you look older. And desperate for attention.
4.
La Comtesse
. You are so beautiful and have no accent, which means you could be my favorite, but no. You are proving yourself to be a nasty, pretentious person. So unfortunate! For reals, girl. Let's look into being gracious, okay? If Ramoner invites you to a cooking party, you either happily accept or you decline and go about your business. You don't accept and then get all smirky "I'm too cool for this shit" behind her back. Also, making fun of Ramoner's horse-show outfit to the camera was such a crappy thing to do. Now look what you've done! You've made me defend Ramoner's outfit.
Don't think I didn't notice the part you played in the Ramoner-Jill fight. You totally twisted Ramoner's words and then said that Ramoner just should have been straight-forward and admitted that Jill wasn't invited. The irony! You don't know the first thing about being straight-forward.
5.
Jill
. Where do I begin? First, are you Joy Behar's sister?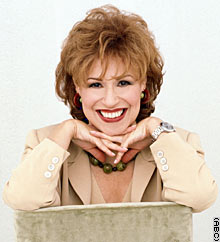 Because I close my eyes when you speak AND I HEAR JOY BEHAR. There's a resemblance right?
Second, quit pushing the Bobby-Allyson relationship. Ally doesn't love Bobby like you do and you need to be okay with this. Sheesh. Also, the food issues that are going on here with Ally? Bad. Bad, bad, bad. The detox was not about arthritis, toots. If it was, you would have not screamed with joy at seeing your daughter lose 11 pounds in 8 days.
Third, don't wear tanks with straps one inch wide. Stacy and Clinton from
What Not to Wear
will back me up on this. Your boobs are waaaay too big. But your tank top choice was nice in that the inappropriate cleavage reminded me of the OC ladies.
Fourth, you kind of insinuated that you invented the phrase "gay husband." You did not. Just wanted to clarify that because my gullible husband thought that you were clever for it.
Fifth, I will explain the black licorice reference. Bethenny remarked, "Jill is like black licorice. You either like it or you hate it." Then there was a bit of a pause and Bethenny said "I like black licorice." I know that I'm mixing Bravo metaphors, but Bethenny's been in the monkey house too long.
This show is an adult version of
My Super Sweet Sixteen
. No one cares about being friends; they only care about out-doing each other. And you're damn straight I will keep watching it.
Thoughts?
Real Housewives of New York City