Bethenny, thank you for voicing what viewers have known since the first episode aired. How is it that you're the only one on the show who's onto Alex and her extreme douchebaggery?
Before I begin the
Real Housewives of New York City
recap, I'd like to make a brief announcement to Lauren (Bethenny's friend from this episode) and Tamra Barney from the OC:
Will you please stop telling the camera about how much sex you have with your husbands? Because my husband actually believes you when you say have sex every day and that you're exhausting your husbands. He's holding it up to me as the standard and I don't appreciate it.

Ladies, if you're having sex every day, then you either a) have known your husband for less than 3 years and have no children and jobs or b) YOU'RE LYING.
Thank you. Now back to the recap.
1. Alex.
I love to start out with you. I would pay money to see your face when you watch Jill tell the camera how low-rent you are for going to St. Bart's in August. Woo! Cut low.
I think you should teach a class called "How to be Really Fucking Annoying." Lessons would include
- speaking in a different language in order to show-off and exclude others
- giving your children asshole nicknames
-acting like you know everything about everything, including opera, singing, playing the violin and piano, speaking French, Italian, Latin and working at Victoria's Secret Beauty (did you all catch that? Priceless!).
-taking a tour of a private school for your three year old while still being really fucking annoying with your ass-kissing demeanor. Example:
2. Ramoner.
First, congratulations on being names dlisted's
hot slut of the week
. It's a true honor, and I'm sure Mario brags about it to his buddies. Avery's probably not so proud, but eh, what does she know? She's just an uptight 12 year old. (Avery if you're reading this, I'm totally being sarcastic. I think you're adorable and more grown-up than your mom).
Ramoner, where did you find your friends? Oy. I know the word tranny is so overused in reality tv these days, but the one with the Cher hair c. 1976 was oh so tranny-like. I had a good chuckle when one of the sleazy divorced men at your table told her she looked promiscuous and she was (allegedly) offended.
Shall we talk about about your monster stage-mothering? The keen-eyed
Mamacita
emailed me with the brilliant observation that you look a smidge like Dina Lohan.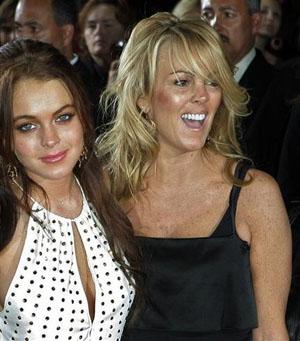 I think the similarities do not end there. Is there such a thing as preventative rehab? Because you should look into it for Avery.
3. The Countess.
I don't care about the lice your children caught in Switzerland. Really, I don't. It happens, even to rich people with titles. No biggie. When you scootched closer to Alex at dinner, I hope you gave her those lice. Dear Countess, the fact that you wanted to spend time talking to Alex speaks volumes about you. VOLUMES.
FYI, you're too old to be going to watch bands and getting wasted downtown with your 23 year old niece. Oh, about your niece, I didn't really think anything of that low headbandish-thing she was wearing until my husband remarked "if she put a feather in it, she'd be Pocahontas." So true:
4. Rosanna, the Countess' housekeeper/nanny.
I love that she's doing air-quotes here AND wearing Lacoste. Is she slowly morphing into a Housewife?


I respect your straight talking advice and love for the Countess' spoiled white kids. You're pretty much most likable person on this show besides Avery, which makes me sad because methinks you are going to be fired tonight. Just a guess. You spoke the truth, sister, but La Comtesse probably won't stand for it. I suggest you move to Orange County and hook up with Vicki. Instead of expecting you to raise her children,
she will give you a makeover
and a job with dignity.
Call her
.
5. Bethenny.
No one understands why you are on this show because you are not a housewife, but I am glad you are here all the same. Your pithy observations about the rest of the cast are headlights into the cold darkness of their souls. We feel your pain in being forced to socialize with these people:
About boyfriend Jason--where did I read that he was the one who talked you into being on this show? Because you'd never know it with his one word answers and his constant refrain of "let's discuss it later." By the way, Bethenny, this is code for "I'd rather not talk about this in front of a camera crew and millions of gd strangers." Clue in, girlfriend!
6. Jill.
To be honest, I'm too tired to talk about you. I did enjoy your St. Bart's nastiness mentioned above, and it was enlightening to me to see that you envision yourself as a Connector in
Alex and Simon's fantasy game world
. Strangely, you are growing on me.
What do you think?