Look at you with a haircut! Did you have lice? Maybe you joined the army instead of "waiting on the world to change"? I know--Jennifer asked you to cut your hair short like Brad's. She did, didn't she? Honey, you look like a rodent! A depressed, diseased, pussy-whipped rodent. Can you have your people call Britney's people about extensions? I think that would be the best option at this point.
I'm going to have to remove you from the
Free Pass Five
until that shit grows out. I'm so sorry, but I'm sure you understand. Say hey to Jen for me!
xoxo,
SGM
p.s. Thanks for not calling while you were in town last week. Oh--almost forgot--tell Jen I love her new handbag! Who would guess that YOUR BALLS are in it? xo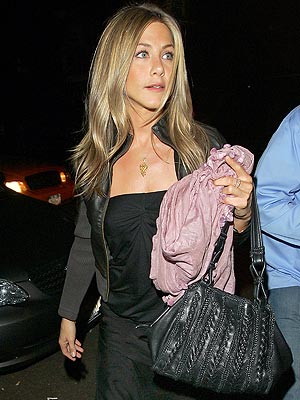 John photo from
Tressed Out
(again). This site is so fabulous. Jen photo from People.